TruFlo-Probenmessgerät
Fortlaufende Messung der Probenzufuhrrate
Vermeidet Unsicherheiten
Überschreitungswarnung
Weniger Wiederholungen
Ideal für die Probenzuführung per peristalische Schlauchpumpe oder natürliche Ansaugung
Geeignet für alle ICP-OES- und ICP-MS-Modelle
| Part Number | Description |
| --- | --- |
| 70-803-0643 | TruFlo Sample Monitor 0 - 4.0mL/min |
| 70-803-0774 | TruFlo Sample Monitor 0 - 0.05mL/min |
| 70-803-0788 | TruFlo Sample Monitor 0 - 1.0mL/min |
| 70-803-0890 | TruFlo Sample Monitor for HF 0 - 4.0mL/min |
| 70-803-0892 | TruFlo Sample Monitor for HF 0 - 0.05mL/min |
| 70-803-0891 | TruFlo Sample Monitor for HF 0 - 1.0mL/min |
Mussten Sie jemals aus folgenden Gründen eine Probenanalyse wiederholen?
Zerstäuber verstopft
Pumpenschlauch verschlissen
Schlauchklemme zu fest
Die Digitalanzeige des TruFlo-Probenmessgeräts informiert Sie stets exakt über die tatsächliche Probenzufuhrrate zu Ihrem Zerstäuber. Das erhöht die Reproduzierbarkeit der Ergebnisse von einem zum anderen Tag. Auch wiederholte Messungen der Probenzufuhrrate durch verstopfte Zerstäuber, verschlissene Pumpenschläuche oder falsch gesetzte Schlauchklemmen erübrigen sich. Zudem verhindert der Probenkanal aus Borosilikatglas etwaige Memory-Effekte oder Kontaminierungen der Probe. Das TruFlo-Messgerät kann auch einen Warnton abgeben, wenn die Probenzufuhr außerhalb festgelegter Grenzwerte liegt.
Das TruFlo-Messgerät ist auch ideal, wenn der Zerstäuber mit natürlicher Ansaugung arbeitet. Viele Labore arbeiten mit natürlicher Ansaugung, um Messfehler durch Pumpengeräusche (v. a. bei ICP-MS) zu vermeiden. Mit dem TruFlo-Messgerät kennen Sie immer die genaue Probenzufuhrrate und können bei Bedarf sofort eingreifen. Zudem können Sie Ihre Probenzufuhrrate aufzeichnen und so gewährleisten, dass Sie stets mit derselben Probenrate arbeiten.
Die tatsächliche Probenzufuhrrate wird auf der Digitalanzeige des TruFlo-Messgeräts angezeigt. Außerdem können Sie sich die zeitliche Änderung der Zufuhrrate auf dem Computer als Kurve anzeigen lassen.

Auch eine Ober- und Untergrenze für die Probenzufuhrrate lässt sich einstellen.

Bei Über- oder Unterschreitung der Probenzufuhrrate ertönt ein Warnton und auf dem Bildschirm wird eine Meldung angezeigt.
Mögliche Ursachen sind z. B. Verstopfungen oder Leckagen, ebenso verschlissene Pumpenschläuche. Pumpenschläuche werden häufig zu früh oder zu spät ausgetauscht.

Sie sind stets über die tatsächliche Probenzufuhrrate informiert und müssen nicht die Probenzufuhrrate aus der Pumpendrehzahl errechnen.

Die fortlaufende Anzeige der Zufuhrrate ermöglicht eine optimale Anpassung des Drucks in den peristaltischen Pumpenschläuchen. Das steigert die Präzision der Analyse und verhilft den Schläuchen zu höherer Lebensdauer. Zu hoher Druck führt zu schnellerem Verschleiß der Schläuche und stärkerem Pumpengeräusch. Zu niedriger Druck kann eine unregelmäßige Probenzufuhr zur Folge haben. In obiger Kurve wurde die Schlauchklemme bei jeder Stufe (Pfeil) eine halbe Drehung fester gezogen.
TruFlo-Messgerät: Technische Daten
Probenkanal: Borosilikatglas. Geeignet für wässrige Lösungen, organische Lösungsmittel und die meisten Säuren. Nicht geeignet für Flußsäure (HF).
Messfühler: Berührungsloser thermoelektrischer Sensor
Messbereich: 0-4,0 ml/min
Kalibrierter Messbereich: 0,2-4,0 ml/min. Das TruFlo-Messgerät kann auch bei Probenzufuhrraten unter 0,2 ml/min mit hoher Reproduzierbarkeit messen. Die Genauigkeit kann dabei jedoch zu gering ausfallen.
Kalibrierlösung: entionisiertes Wasser. Das TruFlo-Messgerät kann auch bei nichtwässrigen Lösungen Änderungen der Probenzufuhrrate gut feststellen. Die Genauigkeit kann dabei jedoch zu gering ausfallen.
Messgenauigkeit: +/-5 % (entionisiertes Wasser, kalibrierter Messbereich).
Innenvolumen: 0,13 ml
Gewicht: 300 g
Abmessungen: 100 x 40 x 60 mm
| Part Number | Measurable flow range (mL/min) | Calibrated flow range (mL/min) | Internal volume (mL) | Sample path |
| --- | --- | --- | --- | --- |
| 70-803-0643 | 0 - 4.0 | 0.2 - 4.0 | 0.12 | Borosilicate glass + PEEK |
| 70-803-0774 | 0 - 0.05 | 0.001 - 0.05 | 0.033 | Quartz + PEEK |
| 70-803-0788 | 0 - 1.0 | 0.03 - 1.0 | 0.055 | Borosilicate glass + PEEK |
| 70-803-0890 | 0 - 4.0 | 0.2 - 4.0 | 0.12 | HF resistant |
| 70-803-0892 | 0 - 0.05 | 0.001 - 0.05 | 0.033 | HF resistant |
| 70-803-0891 | 0 - 1.0 | 0.03 - 1.0 | 0.055 | HF resistant |
Non-aqueous solutions
The TruFlo is normally calibrated for aqueous solutions. With non-aqueous solutions, it can be reliably used to detect any change in the sample flow, but the actual flow reading will not be correct. If you routinely run non-aqueous solutions you can order a TruFlo calibrated for your specific application. You will need to specify what solution you are using and the TruFlo will be supplied pre-calibrated for your solution. When you order the TruFlo, simply add:
Part number 70-TFCAL, TruFlo calibration service.
QA Kit
The QA Kitis a convenient package combining the TruFlo Sample Monitor, Inline Particle Filter, Eluo Nebuliser Cleaning Tool and Eluo Adaptor for Inline Filter.
The Inline Particle Filter is easily inserted in the sample tubing between the autosampler probe and the nebulizer and greatly reduces the risk of a blocked nebuliser.
The TruFlo instantly detects any reduction in the sample flow due to particulates trapped in the filter.
The Eluo and the Adaptor provide a quick and effective way to back-flush the filter and minimize any downtime.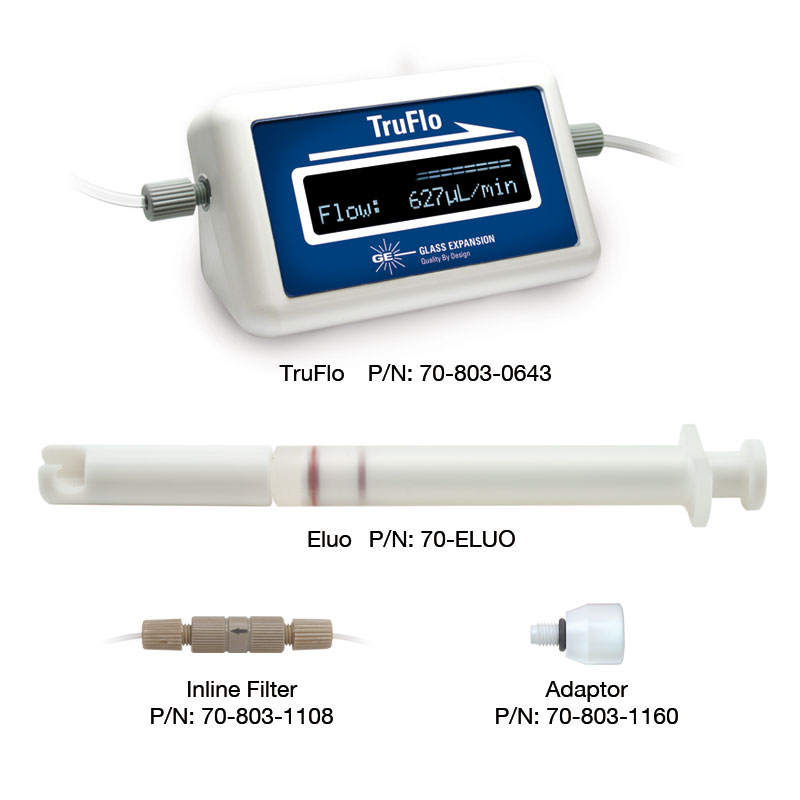 The QA Kit enhances the day-to-day reproducibility of your results and greatly reduces the chance of a blocked nebulizer.
Ordering Information
Das sagen unsere Kunden